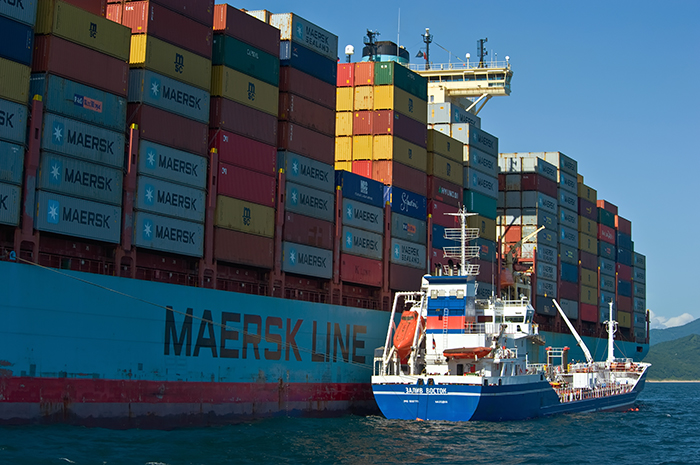 HAMBURG — The European Commission's competition regulator issued a blunt warning Tuesday that any attempt to create a uniform bunker adjustment factor (BAF) surcharge would be viewed as a "hardcore violation" of antitrust rules.
Shippers at the Global Liner Shipping conference in Hamburg suggested that a standardized BAF would reduce their administrative burden and improve the integrity of those surcharges. With various BAFs proposed by carriers to account for the higher operating costs tied to meeting the International Maritime Organization's (IMO's) low-sulfur mandate, many have wondered if a common standard might simplify the process.
"I can issue a firm warning that if there is a uniform approach by carriers, even if customers considered it to be more efficient, this would be a hardcore violation, pursued not only by us, but by other cartel busters," Stephan Simon, senior expert mergers and case manager for DG Competition, within the European Commission, told the conference.
Simon said competition regulators around the world did not like words such as "surcharges," especially when paired with "agreed" and "common approach," adding that the Commission would come down hard on violators of antitrust rules.
Competition trumps convenience
The question of a standardized BAF was raised earlier at the conference during a panel discussion on the impending IMO sulfur cap. From Jan. 1, 2020, all carriers must switch to bunker fuel with a sulfur content no higher than 0.5 percent, down from the current level of 3.5 percent, or install exhaust scrubbers to reduce sulfur emissions, a change carriers say will add between $10 billion and $15 billion to their annual fuel bill.
Revised BAF surcharges have sparked complaints from shippers that they are hard to manage and lack transparency.
Denis Choumert, chairman of the European Shippers' Council, said the problem is that the real cost of the fuel that will be transferred to shippers is still unknown, and every carrier has a different surcharge.
"The BAF formula we had for many years was so strange that sometimes the freight rate excluding the BAF was negative. The total market price was so low and the bunker surcharge was so high that the resulting rate excluding bunker was negative. Fuel costs should not have a surcharge," he told the conference.
But when Anthony Firmin, chief operating officer, Hapag-Lloyd, was asked whether a carrier body could devise a standard fuel surcharge mechanism that would be easier for both shipping lines and their customers to manage, he was quick to shoot down the idea.
"There is no governing body for the liner shipping industry, so anyone that volunteers to start talking about that is probably going to go to jail," Firmin said. "The competition authorities would say that fixing a surcharge for bunker fuel is a commercial issue, and that would be seen as collusion and extremely dangerous."
Rod Riseborough, CEO of Container Trades Statistics (CTS), said he was involved in the disbanding of the Far Eastern Freight Conference, with the EU regulators making it clear that they wanted no discussions among the carriers.
"The penalties for discussing commercial issues are huge — up to 10 percent of a companies' global turnover," he said. "So no one is going to look at getting into a discussion on BAF. Maybe it could be done if the lines gave the info to an independent company, a neutral body that could produce a BAF. But the BAF is such a contentious and political issue that I don't think there are many people that would take that on. You would need EU approval, and the EU sees collusion as a natural way of doing business, so it is very unlikely."
The Commission's competition regulator also covered the consortia block exemption regulation that is currently under review. The exemption allows carriers to cooperate and share vessel space to ensure proper capacity management, but lines are strictly prohibited from discussing pricing. Simon said there were three possible options on the table: either the block exemption is allowed to expire in April 2020; it is renewed for another five years; or the regulation is amended. Unless the regulation is allowed to lapse, it will require another public consultation, he said.
Simon said there were some weighty issues that had to be looked at before a ruling could be made, such as, "Why should container lines benefit from such a block exemption when others don't? Are customers really benefiting from it, or are they worse off looking at the reliability?"
Contact Greg Knowler at greg.knowler@ihsmarkit.com and follow him on Twitter: @greg_knowler.