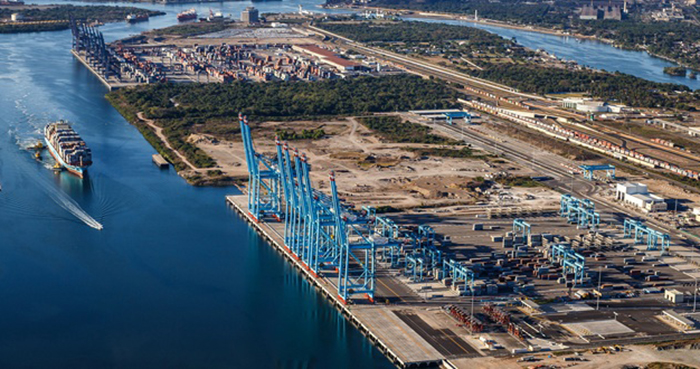 Nearly a month after protesters began preventing trains from entering and leaving Mexico's two largest Gulf Coast ports, Kansas City Southern de Mexico trains are running again and able to remove thousands of containers from the port of Lazaro Cardenas, the second port to be freed.
The liberation follows by eight days the reopening of Ferromex rail lines in and out of the port of Manzanillo, Mexico's largest port, and ends an industrial labor action that at one point stopped all rail traffic from going in and out of both ports, disrupting more than 400 trains. The blockade, enacted by teachers protesting working conditions unrelated to the freight industry, stranded more than 9,000 containers inside the two ports and raised anew questions about the reliability of the country's intermodal services.
Parent company KCS told customers Monday that "the mainline [at Lazaro Cardenas] has been cleared of protestors and traffic has resumed." The railroad reopened services in the other direction, to Toluca, near Mexico City, several days ago.
Once the "network is fluid and further protests have been averted," KCSM will start accepting new cargo, the railroad said of the lines to Lazaro Cardenas. "We remain cautiously optimistic that the mainlines will remain clear, but in matters of civil protests, risk remains as they are not in our control. We will be monitoring the situation closely and will communicate should the status change," the railroad added.
The blockade occurred as the country is looking to position itself as a regional logistics hub and as intermodal rail is seeking to increase its share of the inland market. Manzanillo handled 2.18 million loaded TEU in 2018, and Lazaro Cardenas handled 864,273 loaded TEU, together accounting for about 60 percent of all loaded container cargo that passed through the ports.
The shuttering of rail lines in and out of the ports sparked concern among transportation and business leaders that the action would have a lasting effect on the local economy. Business leaders feared that without a supply of raw materials and parts from the ports, some manufacturers — especially automakers, who operate "just-in-time" supply chains — would shut down. They urged state and federal officials to intervene to get the lines reopened.
The protests echoed similar actions in the past in which protestors disrupted rail cargo to highlight concerns that were unrelated to freight movement. Another blockade by teachers in 2016, for example, stranded more than 4,000 Maersk Line containers in mid-shipment into and out of the ports of Lazaro Cardenas and Manzanillo for more than six weeks.
Contact Hugh R. Morley at hugh.morley@ihsmarkit.com and follow him on Twitter: @HughRMorley1.