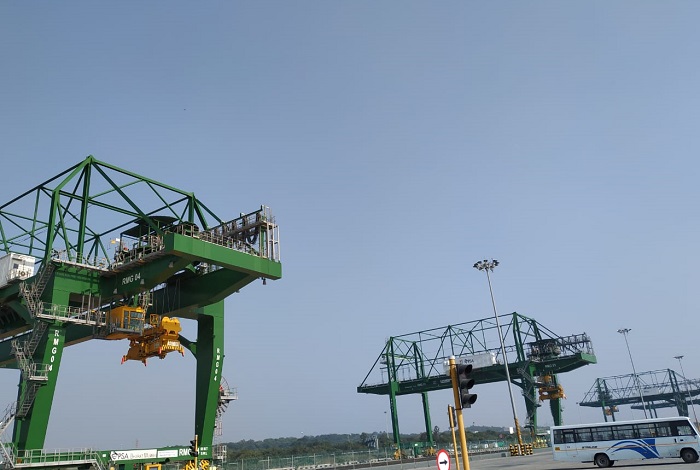 Bharat Mumbai Container Terminals. Photo credit: PSA India.
Amid a reported antitrust investigation into long-running stakeholder differences over mixed-train operations at Jawaharlal Nehru Port Trust (JNPT) — India's busiest container harbor — new concessionaire PSA International has gained more ground regarding railed cargo and transshipment handling.
PSA operates Bharat Mumbai Container Terminals (BMCT), which opened in February 2017 with a capacity of 2.4 million TEU annually.
Sources at PSA (India) told JOC.com that two factors essentially contributed to the aforementioned supply chain progress. The first was dedicated train runs to major northern inland points after some importers redirected nominated cargo to JNPT, in the wake of ongoing rail clearance delays at the rival private ports of Mundra and Pipavav; and the second was east coast shippers' increasing interest toward coastal service calls connecting at BMCT.
Railed containers to/from BMCT during December surged to 5,112 TEU (exports: 2,344 TEU, imports: 2,768 TEU), from 3,325 TEU (1,977 TEU and 1,348 TEU, respectively) in the prior month. More importantly, December transshipment cargo hit an all-time high of 2,262 TEU, up from just 55 TEU in November, according to statistics collected by JOC.com.
Further, the 2,262 TEU figure represents almost 50 percent of JNPT's total 4,596 TEU transshipment during the month.
As a result, the new terminal registered an impressive 84 percent surge in total volume during December — handling 43,252 TEU, compared with 23,514 TEU during November.
Further, with HMM this month adding a new India-China service (ICX) call at BMCT, that volume uptrend is expected to increase further. The independent, large-size weekly loop employs a fleet of six vessels — with capacities reportedly hovering around 10,000 TEU. The carrier was earlier using state-owned Jawaharlal Nehru Container Terminal (JNCT) for the same routing. The switch-over — from JNCT to BMCT for larger tonnage reasons — took effect with the Thursday Jan. 3 Hyundai Loyalty call, according to company officials.
Regular calls at BMCT
The ICX addition brings the number of mainline weekly/regular calls at BMCT to four. In addition, the terminal hosts a fortnightly coastal/shortsea service from Shreyas Shipping — designed to attract transshipment freight. 
With more such coastal calls, propelled by the May 21 cabotage relaxation, JNPT can attain a regional hub status.
In addition, efficiency is helping BMCT attract new customers with larger tonnage deployments. A classic example: the terminal generated an industry-best, average gross berth productivity rate of 175 moves per hour when it handled the 9,954-TEU MV Athenian last month — a performance that enables carriers to optimize operations in a challenging market environment.
That said, "back-to-town" charges that BMCT's customers currently face for cargo handled by mixed/combined trains connecting at other terminals operated by DP World and APM Terminals remain a concern. These charges are said to be about 1,800 rupees ($26) per TEU and 2,700 rupees per FEU, and PSA is hoping that the Competition Commission of India's (CCI's) intervention will resolve this problem. CCI will likely deliver its verdict on the rail issue this month, after a local appeals/high court turned down DP World's petition to halt or review the process, according to sources.
Seamless inter-terminal rail transfers are critical, as the majority of inland container depot (ICD) freight at JNPT is handled via mixed trains owing to infrastructure limitations. As an interim/alternative solution, BMCT has deployed trucks to transfer such containers at no extra charge to customers.
BMCT currently features 1,000 meters (3,281 feet) of quay, a 90-hectare (222 acres) storage yard with 9,336 ground slots, 12 quay cranes, four rail-mounted gantry cranes, and 36 rubber-tire gantry cranes. The company expects to commission Phase II development of the same scale by 2022, which will place JNPT on a stronger footing with a capacity of nearly 10 million TEU annually.