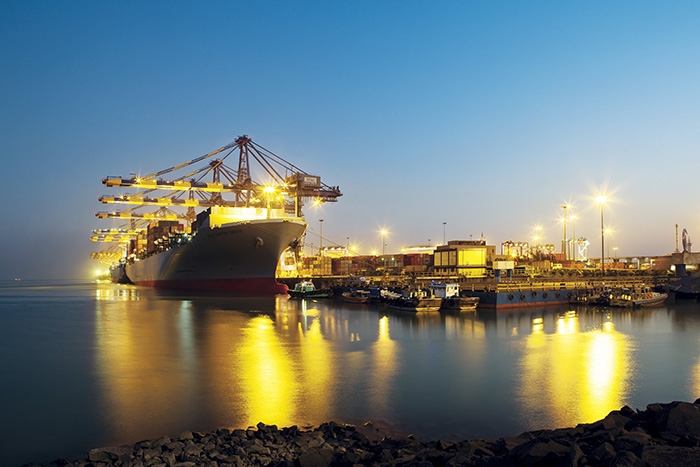 Adani Group, the largest private port infrastructure developer in India, continues to make steady inroads into the country's emerging container market by aggressively taking advantages of unregulated tariffs — a luxury enjoyed by minor cargo terminals — and closer strategic relationships with ocean carriers.
The group has six container-handling facilities spread across four of its 10 existing port locations in the country.
New port data collected by JOC.com suggest Adani has built a market share of roughly 30 percent of all Indian container trade, with its flagship Mundra port contributing the largest chunk.  The private operator's combined throughput stood at 4.8 million TEU during 2018, just short of the record 5.04 million TEU handled at public rival Jawaharlal Nehru Port Trust (JNPT), India's busiest public harbor.
Mundra carrying the load
India's overall container trade in 2018 hit 16.4 million TEU, with 9.4 million TEU (57 percent) coming from terminals at major ports, and the remaining 7 million TEU (43 percent), from minor gateways. That translates into an impressive 70 percent share for Adani of the minor ports' pie.
Adani operates three terminals at Mundra: its independent Adani Mundra Container Terminal (AMCT), the Adani CMA Mundra Terminal (ACMTPL) — a joint venture with CMA CGM Group — and the Adani International Container Terminal (AICTPL) — a partnership with Mediterranean Shipping Co. Together these terminals handled 3.6 million TEU in 2018, representing 75 percent of the group's total volume. The 818,700 TEU handled at Dubai-based terminal operator DP World's facility at Mundra, the Mundra International Container Terminal (MICT), was not included in this analysis.
AICTPL moved 1.9 million TEU in 2018, 11.8 percent of total Indian trade, making it the second-busiest container terminal in the country, just behind APM Terminals' Gateway Terminals India (GTI) at JNPT with 2.07 million TEU (12.6 percent).
January port figures compiled by JOC.com indicate that the growth trend will continue for Adani. The group accounted for 447,279 TEU of 1.4 million TEU shipped in and out India during the month, a 30 percent share. Of that, AICTPL contributed 178,902 TEU (40 percent), benefiting largely from MSC's growing regional transshipment operations at Mundra.
Aside from Mundra, Adani operates container facilities at Hazira, about 120 nautical miles north of JNPT on the west coast, as well as Kattupalli and Ennore, both of which are located on the southeastern coast and compete with the port of Chennai.
Mundra has benefited greatly from a recent government policy reform that lifted cabotage restrictions previously applied to foreign-flag carriers for container transportation between domestic ports. The largest private harbor accounted for 528,929 TEU of the total 597,880 TEU of domestic transshipment cargo handled by minor ports from April to December, a whopping 88.5 percent share, according to statistics. In contrast, the combined domestic transshipment volume of major ports in the same three quarters stood at just just 205,572 TEU.
Ongoing expansions at Mundra, including a berth extension and the deployment of additional quay cranes at AICTPL, will push annual container capacity to 6.6 million TEU once complete.  In an effort to drum up shipper support, Adani has also been hosting roadshows at key hinterland locations and upgrading rail networks.
Outpacing the market
Adani said in a recent statement its cargo volume grew 12 percent year over year during the fourth quarter of 2018, quadruple the 3 percent growth rate of India's container overall container trade and 10 times the 1.2 percent pace seen at major public ports.
"The results once again prove our capability to be resilient, register incremental growth and gain market share. We will continue our strategy to diversify cargo mix and continuously add economic hinterland reach," Group CEO Karan Adani said. Adani did not respond to JOC.com requests for comment on its recent growth.
The group is also building a container transshipment facility at Vizhinjam, a greenfield site about 10 miles southwest of Trivandrum in India's southern state of Kerala. The first phase, with a capacity of 1.8 million TEU annually, is expected to begin operations in 2020, one year behind the original opening schedule.
Although terminal efficiency and independent tariff powers have certainly been a key competitive differentiator for Adani, the establishment of strategic terminal alliance with two of the three largest container carriers in the world — MSC and CMA CGM — has undeniably brought the firm greater market influence at Mundra. The other factor helping Mundra gain more hinterland cargo is its closer proximity to the vast northern corridor, giving the port significant rail cost advantages over public rival JNPT.
"As terminals in Gujarat are cost effective due to lower rail freight on account of their proximity to NCR [national capital region] and other major cargo clusters in northwest India, these volumes tend to get serviced from Gujarat terminals," APM Terminals previously told JOC.com. This aspect often encourages mainline carriers using JNPT to add calls at one of the terminals farther up the west coast in Gujarat State.
Unlike at Mundra, terminals at India's major public ports operate under a regulated tariff regime, administered by the Tariff Authority for Major Ports (TAMP), and, as such, lack the freedom to adjust their service rates dependent on demand. Moreover, bureaucratic controls hinder their ability to invest in infrastructure upgrades and service offerings in order to adapt to changing market dynamics.
India has 12 publicly-owned ports and about 200 minor ports dotting its 4,600 miles of coastline. Sensing the challenges posed by minor private ports, the government has embarked on a "counter makeover program" for major ports — encompassing construction of new berths, last-mile rail infrastructure, dredging, equipment upgrades, mechanization, and digital solutions —  under its mammoth Sagarmala port-led development program.
Though there's a long way to go before the real results are visible, that effort appears to be working, as major ports have been able to halt more traffic diversions and hold onto the 57 percent market share they regained three years ago, after sliding to 55 percent in fiscal year 2014-2015.
The port market in India remains extremely competitive and, as such, continual operational improvements and trade-centric measures are critical. Here, Adani, powered by its more commercially-focused and proactive business approach, appears to hold a clear edge over its state-run counterparts.