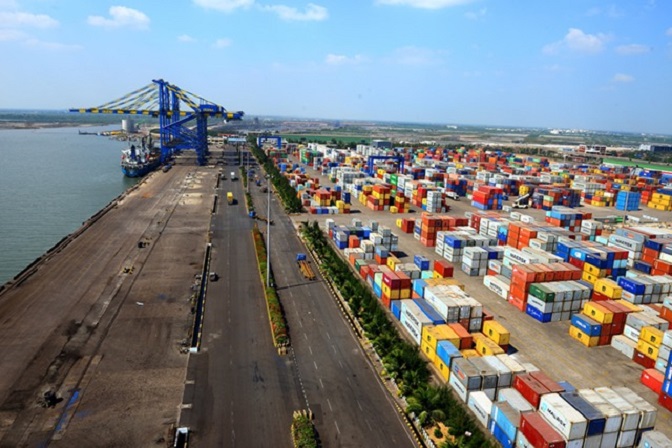 Ocean carriers in the India trade say they continue to increase transshipment handling — powered by the May 21 cabotage rule change — but new data indicate the pace moderated somewhat in November.
The Container Shipping Lines Association (CSLA), in a filing to the Ministry of Shipping, stated that member lines transshipped 61,263 TEU at Indian ports during November, a modest 9 percent gain; the October gain was 20 percent, a JOC.com analysis shows.
On the upside, an impressive 71 percent, or 43,788 TEU, of that projected volume was long-haul, laden export-import cargo — up from 69 percent during October, with empty movement pegged at 29 percent, or 17,475 TEU, versus 31 percent in the previous month.
Further, CSLA — the local umbrella body of foreign carriers — argues if cabotage restrictions had been in place, those containers would have made their way as follows: Colombo (Sri Lanka) — 25,118 TEU, or 41 percent; Singapore — 13,478 TEU, or 22 percent; port Klang — 6,739 TEU, or 11 percent; and others — 15,928 TEU, or 26 percent.
Statistics collected by JOC.com also support what CSLA reported, as there have been respectable transshipment freight improvements at selected, dominant, major ports. The totals are Jawaharlal Nehru Port Trust (JNPT) at 4,530 TEU in November, up from 3,198 TEU in October; Visakhapatnam at 1,401 TEU, up from 1,077 TEU; and more significantly, Chennai — which is slowly establishing a foothold in that segment — at 88 TEU, up from 44 TEU.
Although that overall lower growth is a concern, industry observers generally agree that the new cabotage program — enabling foreign-flag carriers to engage in coastal container transportation — is still in its early stages and, as such, it is currently not meaningful or possible to determine the full impact of supply chain improvements arising from a broader market environment. 
In addition, the benefits of unrestricted coastal operations remain an open debate point among stakeholders, with some arguing that privately operated minor ports — armed with unregulated tariffs and infrastructure superiority — stand to gain the most, rather than government-run, major ports, which are handicapped by price/other administrative regulations and lower productivity. One example: Krishnapatnam, located about 112 miles north of Chennai, is one such private harbor that has positioned itself solidly for transshipment cargo — recently extending its quay length by 250 meters (820 feet) to 900 meters and adding three new quay cranes. Further expansions are under way to increase the port's capacity from 1.2 million TEU to 2 million TEU annually.
"Addressing the industrial urgency of exim [export-import] trade for handling transshipment cargo and reducing the dependence on neighboring ports, Krishnapatnam has been consistently building its infrastructure and restructuring it service offerings," Vinita Venkatesh, director of the Krishnapatnam Terminal [renamed Navayuga], told JOC.com. "We are confident that our transshipment offerings will enable us to build and sustain long-term contracts with multiple shipping lines and will go a long way as an efficient revenue model for Krishnapatnam Port."
As a result, Krishnapatnam hit a new transshipment high in November — generating 20,600 TEU, with the third-quarter monthly average pegged at 19,800 TEU, up from 17,200 TEU in the prior quarter, officials said.
Cabotage reform creating options for shippers, logistics providers
Notwithstanding the divergence cited above, India's logistics reform measures have increased competition across transport modes — something cargo owners and supply chain stakeholders welcome. One prime example: amid fears of slackening freight demand, as more inland volumes shift to sea for the aforementioned reasons, Indian Railways this week announced a 25 percent discount on haulage rates the public enterprise applies to intermodal train operators for empty container transportation.  
The haulage charge is the fee freight wagon companies incur for use of Indian Railways' national infrastructure networks. This component represents the majority of overall operating costs for intermodal logistics providers, including state-owned Container Corporation of India (Concor) — which is an offshoot of Indian Railways. Besides Concor, there are reportedly 17 private rail operators in the country, following the end of public monopoly in 2006.
"This move [the discount] is likely to give the desired boost to [the] rail container segment and be a profitable proposition to Indian Railways. It is expected to enhance efficient handling of traffic at ports and attract a larger share of container traffic to rail," the government stated.
The statement also said container transportation remains a "high priority segment," as Indian Railways works to increase its freight handling. Moreover, as export-import trade expands at a robust pace, the government has been pushing rail stakeholders for a wider freight portfolio, given that shippers increasingly move non-conventional or bulk commodities in containers for ease-of-handling.
"The objective is to capture traffic of new commodities, which, hitherto, have been moving via road or other modes of transport," the government added.
In addition to predictive logistics cost benefits, as highlighted above, those freight conversions — toward coastal and rail systems — can address some of the congestion issues confronting major ports in the wake of inherent landside infrastructure inadequacies. That's a long-term government vision for better supply chain efficiency.