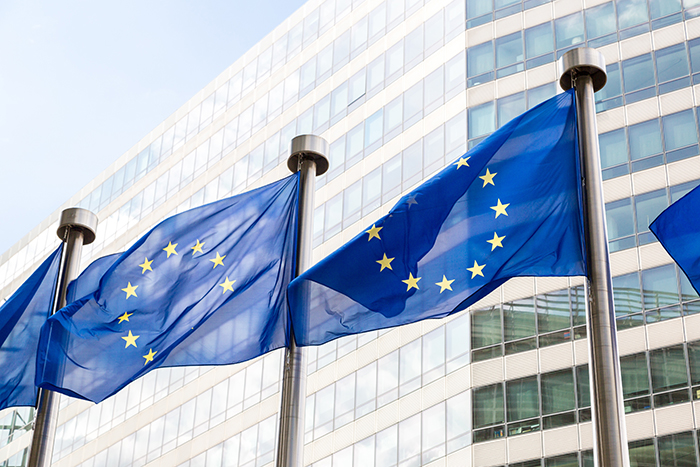 The European Transport Workers' Federation (ETF) will not be calling for an escalation of protest action at ports and terminals ahead of the EU elections in May.
A spokesperson for the ETF, which represents about 5 million workers in Europe through 200 affiliate unions, said the wave of labor action that swept across Europe this week will end in Brussels on Wednesday with a rally outside the European Commission headquarters.
"We are not calling for any escalation of industrial action in the run up to the EU elections," ETF Communications Officer Bryn Watkins told JOC.com.
Bigger picture
The Brussels march is the culmination of a year-long Fair Transport Europe campaign by transport unions demanding the European Commission address concerns over worsening wages and "social dumping," the practice of employing cheap imported labor instead of more expensive local workers.
Europe's hub ports have not reported any significant disruption to their container handling activities as a result of the ongoing protests, and Watkins said that although dockers and their unions were "playing their full part," there was no campaign to disrupt port operations.
"These are not strikes or full industrial action as such," he said. "If our affiliate unions at [a] national level take industrial action in accordance with national rules, we support their decision."
A port of Rotterdam spokesperson said on March 18 some of the deepsea terminals had their daily operations disrupted for a short period. "As a result, some sailing schedules were adjusted, again for a limited amount of time. Truck traffic to and from the container terminals was not affected so there was no need for contingency preparations to kick in," he said.
Shehrina Kamal, director of risk intelligence at Resilience 360, said the widespread protests are aimed at raising awareness of social dumping and other issues among transport workers, rather than disrupting logistics flows from container ports to hinterland connections.
"ETF affiliates representing dockworkers have held awareness-raising actions in the ports of Antwerp in Belgium, Hamburg, and Bremerhaven in Germany on March 25, informing port workers of their labor rights. More such informative actions are planned at ports and key road corridors throughout Europe in the coming weeks," she said.
Shippers using Europe's gateways are caught in the middle of any dispute between unions and companies in the port and logistics business, but Watkins said it was about more than simply importing or exporting containers.
The ETF spokesperson suggested shippers look carefully at the social record of the transport companies they use. "Try to choose companies that have good relations with staff and their unions, and which support ports in offering quality employment. Avoid companies that drive down standards at sea and on land," he said.
The most significant industrial action to hit European ports this year was a day-long national strike in Belgium on Feb. 13 that brought Antwerp to a standstill. Terminals ceased operations and locks downriver were closed for the day, but the backlog of containers was cleared within a few days.
That scene stood in stark contrast with that of the port of Gothenburg in Sweden, where a long-running dispute between APM Terminals and the Swedish Dockworkers' Union cost the Scandinavian hub more than 30 percent of its annual container volume in 2017.
Contact Greg Knowler at greg.knowler@ihsmarkit.com and follow him on Twitter: @greg_knowler.