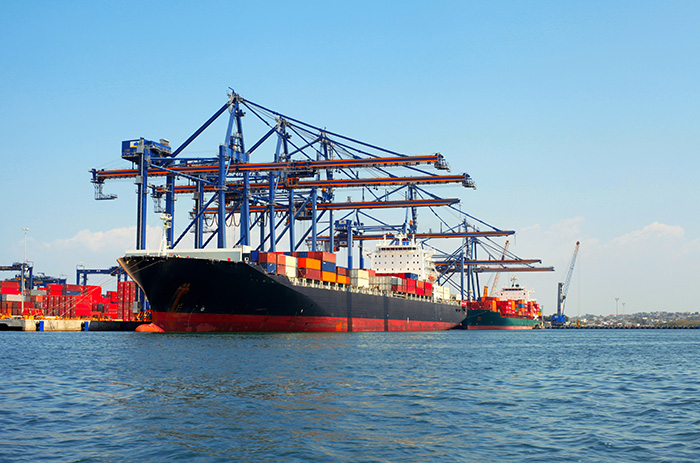 An already oversupplied market on India's southeastern coast will become much more competitive and challenging with a new harbor scheduled to open in less than two years from now.
Navayuga Engineering Co., which currently operates a deepwater multipurpose port at Krishnapatnam, on Thursday broke ground on a 4,800-acre port complex at Machilipatnam, roughly 230 miles north of its existing gateway and 342 miles north of Chennai. The build-operate-transfer (BOT) project is designed to handle all types of cargo, including container, bulk, dry bulk, liquid bulk, general, and project shipments, with a capacity of 40 million tonnes (44 million tons) in its first phase. Company officials declined to provide container capacity details when contacted by JOC.com.
Due to a daunting supply overhang, driven by the emergence of a new breed of privately operated minor ports — including Karaikkal, Gangavaram, Kattupalli, and Kakinada — and continued lackluster market conditions, Indian east coast terminals are being forced to adjust their service rates downward to attract more calls and sustain operations in the long run. For example, the Chennai port in July rolled out a deep discount program for vessels handling export-import containers for transshipment.
With another new entrant in the offing, this desperate strategy will play out even more in the coming months, unless demand conditions rebound dramatically.
An economic engine
Navayuga said the Machilipatnam site is strategically located along the Bay of Bengal coast and that the initial development program will encompass four berths. The group also plans to construct special economic zones, power plants, and other industrial facilities at the site to support the port project, which the company said will help boost the local economy and create considerable new job opportunities.
"Given Machilipatnam's access to prominent international waterways, the project will be a significant catalyst in positioning India strategically as a global international trading hub," Chinta Sridhar, managing director of the Navayuga Group, said at the ground-breaking event. "The port will herald a new era of economic activity and dramatically transform the lifestyle of the localities by generating umpteen business and employment opportunities."
The $250 billion conglomerate believes the new, modern harbor will emerge as a preferred gateway for container trade to and from the east coast region, given its expansive established rail and highway connectivity to hinterland locations.
Navayuga holds a 50-year operating concession for the project, and work on the first phase is targeted for completion in 18 months. At full build-out, the port is expected to provide a capacity of 150 million tonnes per year.
Machilipatnam boasts a rich maritime history, as it was a major gateway for trade between India and various French, British, and Dutch establishments in the 17th century. "The port, which was operational until the 1980s, will soon witness the lost glory returning back once it is rebuilt with modern facilities," the new concessionaire stated.
Self-competing container gateways?
As domestic transshipment and coastal shipping gather momentum, propelled by India's recently liberalized cabotage program, Krishnpatnam has positioned itself to capture rising demand on the strength of ample feeder networks and infrastructure upgrades, including a 250-meter (820 feet) berth extension and more quay crane deployments. Further expansions are under way to augment the port's capacity to 2 million TEU annually, from 1.2 million TEU at present.
The Krishnapatnam container terminal currently features two berths with a combined quay of 2,150 feet, an 89-acre back-up area, and nearly 5,000 ground slots.
The private harbor has been cashing in on the chronic congestion problems facing its nearby public rival Chennai — one reason Maersk Line in October withdrew its weekly intra-Asia Chennai Express Service (CHX) call from Chennai. The revised full port rotation of the CHX is Qingdao, Xingang, Busan, Shanghai, Nansha, Tanjung Pelepas, Ennore, Krishnapatnam, Visakhapatnam, Tanjung Pelepas, and back to Qingdao.
Total container throughput at Krishnapatnam stood at 480,529 TEU in 2018, a 3 percent gain from 466,207 TEU in 2017, according to statistics collected by JOC.com. More significantly, Krishnapatnam hit a new transshipment high in November, handling 20,600 TEU, with the third-quarter monthly average pegged at 19,800 TEU, up from 17,200 TEU in the prior quarter.
As Krishnapatnam works to expand capacity to stay ahead of anticipated demand growth, it remains to be seen if the opening of a new sister facility will run counter to the upward volume trend as both will target the same hinterland cargoes. However, captive cargo generation from large-scale industrial activity at Machilipatnam should help mitigate these risks.