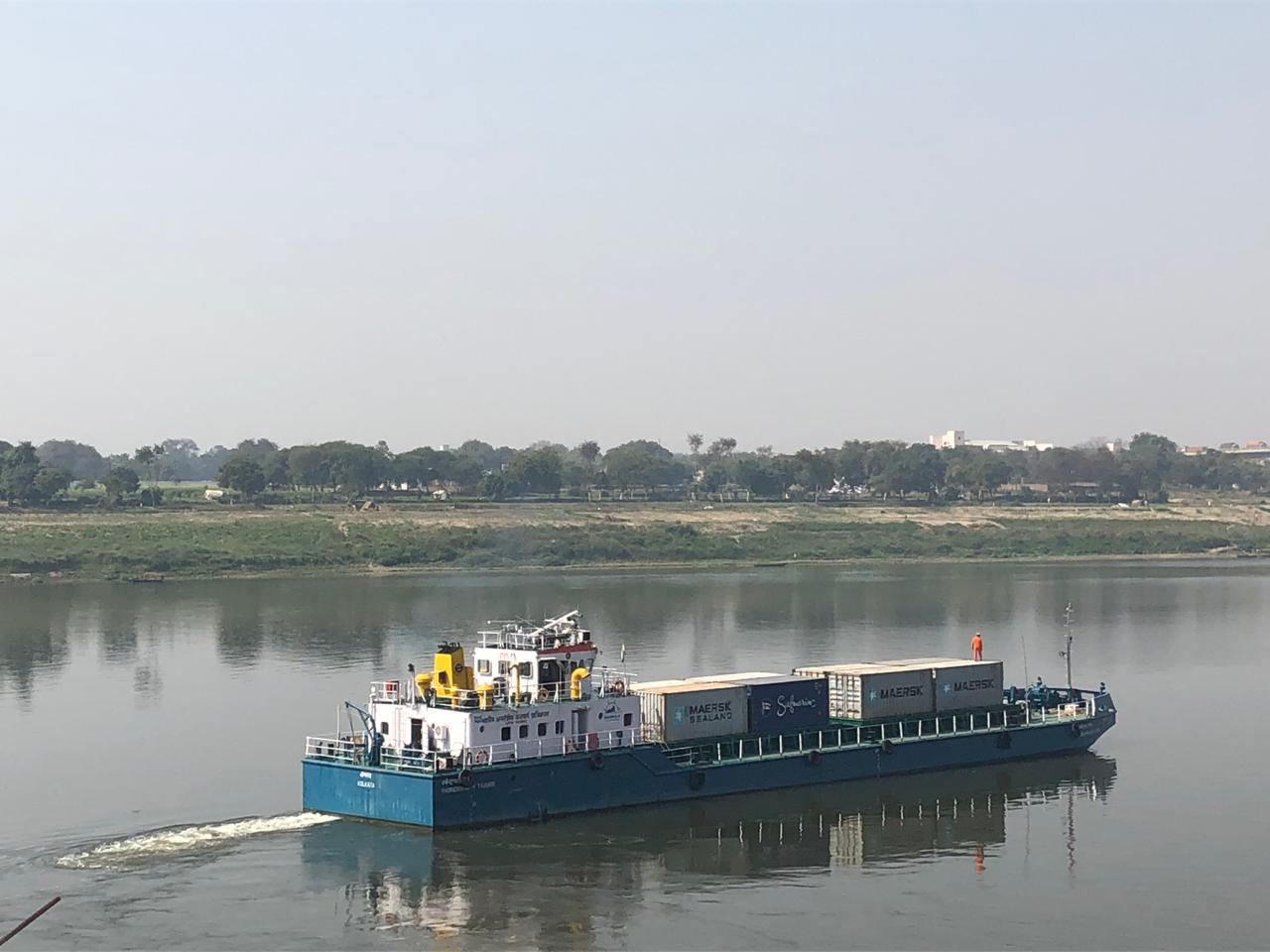 Inland waterway container services are gaining ground in India as shippers search for alternative transport solutions to traditional trucking, which is fraught with long delays due to inadequate, outmoded road infrastructure in the country.
In response, Maersk Line recently started moving containers via the Ganges River route between Kolkata and Varanasi — an 864-mile stretch that opened to freight movements in August 2016.
The Tuesday sailing of the MV Rabindranath Tagore from Varanasi to Kolkata with 16 TEU of empty containers marked the launch of what officials at Maersk Line (India) believe will bolster the carrier's operations in and around the region. Maersk accounts for roughly 20 percent of India's containerized export-import transportation and officials say there's more potential to be unlocked farther from the coast.
"We truly believe that India's trade growth is hidden in hinterlands. As the global integrator of container logistics, we are focused on providing efficient supply chain solutions for our customers, and efficiently linking Indian importers and exporters in hinterland locations with markets around the world," Steve Felder, Maersk's managing director for South Asia, said.
The world's largest container carrier, however, said that despite being blessed with a vast coastline and extensive river networks, India's container shipping capacity has not kept pace with growing demand and currently remains well below the global average.
Maersk said the initiative will also help establish inland and coastal trade connectivity between India and Bangladesh under the recently renewed bilateral "inland water transit and trade" pact, as well as with other regions, through the Bay of Bengal coast. "India has 14,500 kilometers [9,010 miles] of navigable waterway, which can be utilized as a channel to move cargo within the country and to neighboring countries, and potentially reduce logistics costs," Felder added. "Containerized cargo transport through inland waterways presents several inherent advantages such as reduced handling costs, easier modal shift, reduced pilferage, and damages, thereby enabling the cargo owners to reduce their carbon footprints."
The carrier also noted that inland waterways offer significant economic advantages compared to overland logistics in India, with the average cost of moving one ton of cargo over one kilometer by ship estimated at 1.19 rupees [1.7 cents], versus 1.41 rupees by train and 2.28 rupees by truck.
With liberalized cabotage rules in place since May 2018, Indian authorities have been pushing major ports on the east coast, which generally lack the necessary infrastructure to attract long-haul mainline calls, to target coastal and transshipment movements. Maersk's move is another example of how carriers are making use of the open, unrestricted coastal shipping environment to reposition equipment from surplus locations to deficit areas.
Those efforts are part of a larger government effort to encourage a modal freight shift from land to sea. According to Maersk, inland waterways in India currently carry a miniscule 0.5 percent amount of total cargo traffic, with the over-the-road cargo share pegged at 65 percent and rail lifts at 27 percent. At Jawaharlal Nehru Port Trust (JNPT), India's busiest container gateway, roughly 85 percent of freight is handled by road, although efforts have been under way to convert some loads to rail or barge.