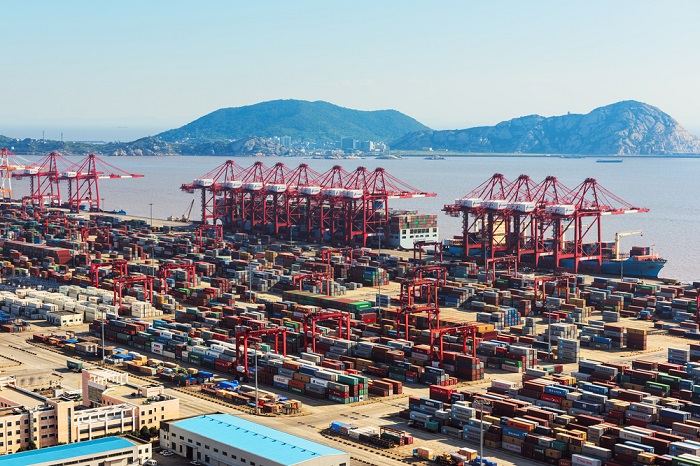 Construction work on the Donghai Bridge connecting Shanghai's Yangshan Port to the mainland is limiting truck access to the world's busiest container port at the height of peak shipping season, with the repairs keeping one lane closed and scheduled to last until Monday.
The congestion was worsened by an accident earlier this week that a Hapag-Lloyd spokesman said backed up trucks up for 20 miles, occupying the entire Donghai Bridge from Lu Chao Gang on the mainland to the Yangshan terminal. The accident has been cleared but traffic remains slow with one lane closed and such large volume of trucks using the bridge.
Hapag-Lloyd said shipment deliveries, AMS submissions, empty returns or repo and laden transshipment could be affected with the situation remaining strained until next week.
The 20-mile, three-lane, dual carriageway bridge is the only road link to the Yangshan terminals, part of the huge Shanghai port that handled 20.5 million TEU in the first half of 2018, an increase of 4.6 percent from the same period in 2017.
DB Schenker said in an advisory to customers that the bridge work cut traffic capacity by 60 percent and the forwarder expected the congestion to deteriorate further over the next few days.
"Waiting times along the bridge are currently up to eight hours on average, impacting heavily the timely pickup and drop-off of containers at the port's import and export container gates. In order to save time and costs, we highly recommend that you plan the pickup and delivery of your shipments to/from Yangshan port as early as possible," DB Schenker warned on Sept. 6.
Spokesmen for Maersk Line and OOCL said there was no impact on their carriers, and Kuene + Nagel said the congestion has cleared.
Severe summer weather 
The Shanghai representative for GA Ports, Captain Charles You, said the Donghai Bridge was forced to close several times during the summer as a series of typhoons blew through East Asia, creating heavy traffic jams.
"The maintenance will last for a week, but according to the port, they will block one lane only so the congestion should improve," he told JOC.com.
A summer of severe weather and fog delays has created havoc with sailing schedules on the trans-Pacific at a time when shippers have raced to beat the imposition of US tariffs on Chinese goods. It has been virtually impossible for beneficial cargo owners and trucking companies to plan their pickup and delivery schedules with any degree of accuracy, thanks to trans-Pacific reliability hitting as low as 35 percent, rail delays, and chassis dislocations.
Containerized imports in July rose 8.7 percent year over year. Last year, imports in July were up 6.1 percent over the same period in 2016, according to PIERS, a sister product of JOC.com.
Contact Greg Knowler at greg.knowler@ihsmarkit.com and follow him on Twitter: @greg_knowler.