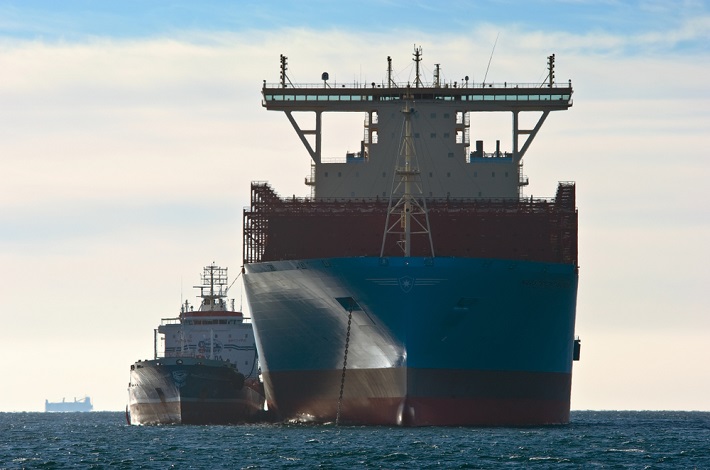 Major container lines are telling North American importers they won't sign service contracts that don't account for their higher costs from the low-sulfur global mandate, while shippers and non-vessel operating common carriers (NVOs) complain that carriers won't know the true cost until the fourth quarter when carriers will begin actually using low-sulfur fuel to run their ships.
That's adding another layer of complexity to what is expected to be an already difficult annual service contract negotiating cycle due to expected market softness post-Chinese New Year when talks kick into high gear ahead of the new contract year taking effect on May 1 for many import shippers.
Container line executives at three major carriers say they are telling shippers in early negotiations that they have to take on the added fuel costs, and that negotiations on freight costs can't be brought to conclusion unless they fully accept higher bunker costs. Two carriers said they ended talks with separate shippers after they balked at paying the full increase in fuel costs.
The International Maritime Organization's (IMO's) low-sulfur fuel mandate that takes effect on Jan. 1 is estimated to add about $150-200 per TEU to trans-Pacific carriers' costs, according to an analysis by the Coalition for Responsible Transportation (CRT), an industry group that represents beneficial cargo owners (BCOs), ports, ocean carriers, and logistics providers. However, given the volatility in fuel prices, there are a range of estimates of the cost of low-sulfur fuel for late 2019 as well as the differential between low and high sulfur fuel, in other words, the additional cost carriers will forced to pay.
Scrubbers will likely be installed as of Jan. 1 on only 9 percent of container ships over 10,000 TEU, according to an IHS Markit estimate, and on only 2 percent of the total number of container ships, meaning carriers will be highly exposed to the differential whatever it turns out to be. By March of next year an estimated 20 percent of ships over 10,000 TEU will have scrubbers installed, according to the estimate. Failure by carriers to recoup the added cost of the IMO mandate, with additional annual costs perhaps as high as $15 billion, depending on where fuel prices go, will likely result in carriers slashing capacity to get rates up, leading some to see the potential for another 2010-caliber capacity squeeze when supply chains were severely disrupted. That is considered the biggest risk to the supply chain from the IMO mandate.  
But while carriers are giving BCOs and NVOs "fair warning" of higher fuel cost, they aren't disclosing the exact amount, said Kevin Krause, vice president of ocean services at Seko Logistics. That's because the final cost of low-sulfur fuel as well as the differential isn't currently known. Low-sulfur bunker fuel is currently costing 38 to 42 percent more than high-sulfur bunker fuel, according to a JOC.com analysis of Argus Media data based on bunker prices at Rotterdam and Singapore. 
The price volatility of the higher-sulfur fuel type, known as ISO 380, has further complicated forecasting. The average price per ton as sold at the ports of Shanghai, Rotterdam, and New York-New Jersey was down 21 percent in the week ending Dec. 18, at $389, compared with the price in the week ending Nov. 16. As the differential has narrowed as the price of traditional bunkers has fallen, some have questioned the economic rationale for installing scrubbers in the first place.
Low-sulfur fuel supply
Some question whether enough supply of low-sulfur fuel will be available to meet the demand. According to the IHS Markit energy team, supply will be less of a concern. "In general we expect the price signal to be such that refiners and traders will be incentivized to produce these grades. Around the world, many [oil] majors have come out with announcements about their future product offering, so it's clearly on the oil side's radar screen."
This lack of clarity on future high- and low-sulfur fuel costs worries BCOs and NVOs as they enter the more critical second phase of negotiations in March, following initial discussion of the first phase. Kenneth O'Brien, chief operating officer of Gemini Shippers, said carriers are indicating firm numbers may not be available until later this year, possibly the fourth quarter. "I'm pretty uncomfortable with that. As a shipper, I need to know what that rate will be," he said.
Some carriers are taking a two-stage approach. Existing bunker fuel formulas will remain in effect until late this year, and then carriers will individually post a new rate that reflects the mandatory switch to low-sulfur fuel. Michael Klage, solutions director at forwarder TOC Logistics International, said carriers are indicating their costs are expected to increase about $200 per TEU. However, estimates of rate increases range from $40 per TEU all the way up to $200. Some BCOs and NVOs say they are not willing to pay the higher amount, especially because the base rate in the contracts is expected to be higher than last year given low contract rates of about $1,200 per FEU to the West Coast and $2,200 per FEU to the East Coast in the 2018-2019 contracts. The higher spot rates later in 2018 led carriers to restrict the amount of capacity they were willing to provide customers at the earlier negotiated annual rates. 
A JOC.com survey of more than 60 BCOs in mid-November found that most respondents expect to pay higher fuel rates this year. The majority, 52.1 percent, expect the fuel portion of their contracts to increase between 10 and 30 percent. Twenty-five percent anticipate an increase up to 10 percent and 14.2 percent say fuel costs in the contracts will increase 30-50 percent. None expect an increase of more than 50 percent, and 3.5 percent expect no change.
Since the low-sulfur fuel requirement takes effect at roughly the midpoint of most trans-Pacific eastbound contracts, carriers are expected to wait until late in the year to post fuel surcharges that reflect the higher costs they will incur when they switch from heavy fuel with 3.5 percent sulfur content to low-sulfur fuel with 0.5 percent sulfur content. "In my opinion, it won't happen until the fourth quarter," said Bill Rooney, vice president of strategic development at Kuehne & Nagel.
The problem with waiting until a month or two before the new bunker fuel charges take effect is that customers' leverage in the discussions diminishes. "We're not going to negotiate charges with a gun to our heads," O'Brien said. "So let's get this done," he said. 
Furthermore, some BCOs are used to paying an all-inclusive rate that covers ocean transportation and fuel, and they don't want to change to a new approach. "The fuel rate is baked into our ocean contract," said an importer in the apparel industry.
A BCO in the home-improvement industry said that given carriers' widely varying fuel costs based on the size of the vessel and length of voyage, carriers should include the additional low-sulfur fuel costs into their base rate on each trade route. Such an approach would make sense given that vessels burn more fuel on the longer route from Asia to the East Coast than to the West Coast. Therefore, a higher all-inclusive rate to the East Coast that reflects a higher fuel burn makes sense, he said. This approach may not be as transparent as a surcharge that floats up or down based on an index, but it does provide BCOs with more certainty in planning their supply chain costs, he added.
Shippers want contract certainty
Shippers generally prefer certainty in contracting, but given the fact that neither carriers nor BCOs know precisely how to measure the increased fuel costs, shippers can protect themselves by negotiating contracts with a cap on the increase, the home improvement importer said.
Each carrier is taking its own approach to the low-sulfur fuel requirement. Some shippers, particularly those with their own in-house energy pricing teams, plan to create their own bunker adjustment factor (BAF), while others are turning to consultants such as Breakthrough to create a mechanism they feel accurately captures the added costs. 
 There does not appear to be an industry-wide standard in the making. Since the Transpacific Stabilization Agreement disbanded last year, there is no discussion group in the eastbound Pacific to research costs and suggest a common standard for the industry. Some carriers have announced what their total annual increased costs will be, such as Maersk Line, which expects its fuel costs to increase $2 billion a year, and Hapag-Lloyd, which projects a $1 billion per year increase.
In a white paper he developed for the CRT, Executive Director Stephen Cadden said current estimates are that low-sulfur fuel will increase bunker fuel costs by $250 per ton, although the spread is narrowing. Preparations for implementation of the IMO rule have been under way since 2016, but that doesn't mean all of the issues involving cost, availability, and carriers' strategies for complying with the requirements have been finalized.
In fact, some carriers intend to go a different route, at least for some of their vessels, by retrofitting vessels with scrubbers to reduce harmful emissions, or by ordering vessels with the capability of running on cleaner-burning liquified natural gas (LNG).
Cadden said probably 95 percent of the liner vessels will shift to low-sulfur fuel. Some carriers intend to install scrubbers on selected vessels, which will make those ships compliant with the IMO requirements even when burning heavy fuel. Scrubbers cost about $3 million-5 million each to install, Cadden said. LNG vessels are already in use, or planned for the US coastal trades, and some carriers such as CMA CGM are ordering vessels for the east-west trades with LNG capability.
Carriers will begin incurring costs associated with the low-sulfur rule at various times in the coming year, based on whether they install scrubbers or switch to low-sulfur fuel. Lines that choose to install scrubbers on existing vessels will have to take the ships out of service for a month or two, and they may seek to begin recovering their investments in the coming months. Switching to low-sulfur fuel does not require changes to engines, but the heavy fuel must be cleared out, so the transition must begin before Jan. 1. The IMO stated that all changes must be completed by March 1, 2020.
The coming year will once again feature a number of uncertainties involving the outcome of trade negotiations between the United States and China, the impact of front-loading of imports last autumn on cargo volumes in this year's first quarter, how much the shift to low-sulfur fuel will add to carriers' costs, and whether carriers will seek to recover the entire cost of the new fuel.
Possibly due to these uncertainties, carriers have already begun to hold preliminary discussions with some of their customers, and some have moved on to the second phase where more substantive discussions will take place. The final phase, when contracts are signed, should be held in late March through April.
Importers should also be aware of the likelihood that increased demand by ocean carriers for low-sulfur fuel will lead to an increase in the cost of diesel fuel used by trucks and locomotives. Heavy bunker fuel does not compete in the "middle distillates" sector, but low-sulfur fuel does, so trucks and locomotives will compete with vessels for diesel fuel. "The International Energy Association has estimated a 20-30 percent increase in diesel prices as the demand for low-sulfur marine fuel spikes in early 2020," Cadden said.
Contact Bill Mongelluzzo at bill.mongelluzzo@ihsmarkit.com and follow him on Twitter: @billmongelluzzo.