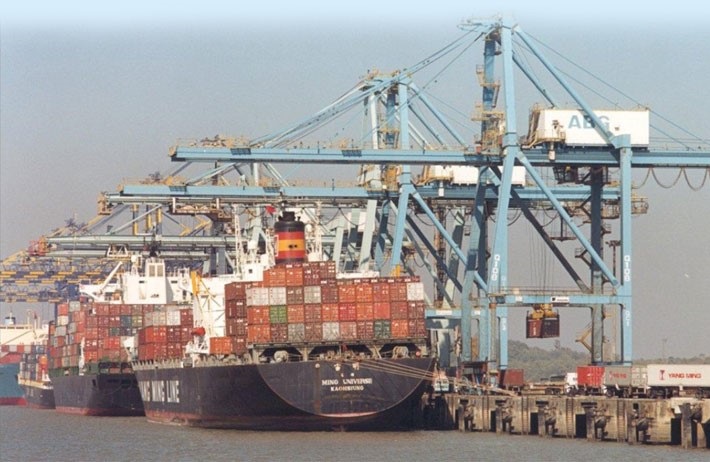 India's new liberalized cabotage program — intended to bolster direct mainline shipping connections instead of transshipment via foreign hub ports — is working, as ocean carriers have begun to realign their routings to/from the emerging market economy to take advantage of the resurgent/broader coastal shipping environment.
With the above as a backdrop, an intra-Asia consortium led by Wan Hai Lines has expanded its port rotation to include a new direct call at Tuticorin port — a major public east coast harbor near Chennai.
The China-India Service II (CI2) debuted the Tuticorin addition Wednesday, with a call from the Wan Hai 510, voyage E116, at the new Dakshin Bharat Gateway Terminal (DBGT).  
The revised CI2 port rotation is as follows: Tuticorin, India; Penang and port Klang, Malaysia; Hong Kong; Qingdao, Shanghai, Ningbo and Shekou, China; Port Klang; Jawaharlal Nehru Port Trust (JNPT), India; and back to Tuticorin.
Wan Hai operates the CI2 in conjunction with Interasia Lines and Cosco Shipping Lines. However, when contacted by JOC.com, officials at Cosco Shipping (India) stated that the Tuticorin call is an operational arrangement between the other two partners and that Cosco's involvement is currently restricted to the JNPT call.
Inaugurating the new call at Tuticorin (also known as V.O. Chidambaranar), India's Shipping and Transport Minister Nitin Gadkari said shippers in the region have had to transship their cargo by using feeder networks. With the direct call, exporters/importers will now be able to realize substantial cost savings — savings officials put at $50 per container.
"With the strategic location of the [Tuticorin] port being so close to the east-west trade route and a draft of 16 meters (52 feet), the port is poised to attract more mainline vessels and has the potential to become a transshipment hub of South India," Gadkari said.
Port improvements
Furthermore, officials said the port has invested about Rs. 1,500 crore (about $210 million) in infrastructure improvements under the government's Sagar Mala program over the past four years and stated that a Rs. 500-crore dredging project is in the pipeline to deepen the harbor further, which will enable a new generation of vessels to berth at the port. In addition, the government is considering a proposal to develop a large, 1,000-acre industrial zone in the harbor — a project similar to the under-construction special economic zone at JNPT — to generate captive cargo. "Tuticorin has huge potential to become a major industrial hub," the minister added.
With fewer mainline/long-haul calls — a problem largely stemming from infrastructure inadequacies and a lack of sufficient gateway cargo — India's east coast ports essentially operate as feeder points, i.e., sending/receiving domestic cargo routed via foreign hubs. This long-time phenomenon vexes the estimated 2 million TEU shipped annually to/from the eastern region and hence, the government wants domestic ports to improve their competitiveness with more direct calls.
The cabotage change, enacted May 21, is a step toward that goal. Under the program, foreign ocean carriers can transport laden export-import containers for transshipment and empty containers for repositioning between Indian ports without any specific permission or license.  
As those government efforts gain ground, new South India port statistics collected by JOC.com point to lower growth in recent months as November total regional volume was down to 371,018 TEU, from 383,087 TEU during October and from 390,618 TEU during September.
However, DBGT, which started operations in 2014, registered modest growth — a 6.1 percent rise — handling 23,427 TEU in November, compared with 22,078 TEU in October and 21,988 TEU in September. Tuticorin includes a PSA International terminal, which has generated 35,754 TEU, 35,898 TEU, and 36,916 TEU, respectively, statistics show.
Although it is still too soon to tell if the aforementioned measures will alone resolve a protracted issue that has its roots in several other factors — notably uncompetitive pricing and pro-trade issues regarding foreign rivals — the initial signs are encouraging, industry observers generally agree.