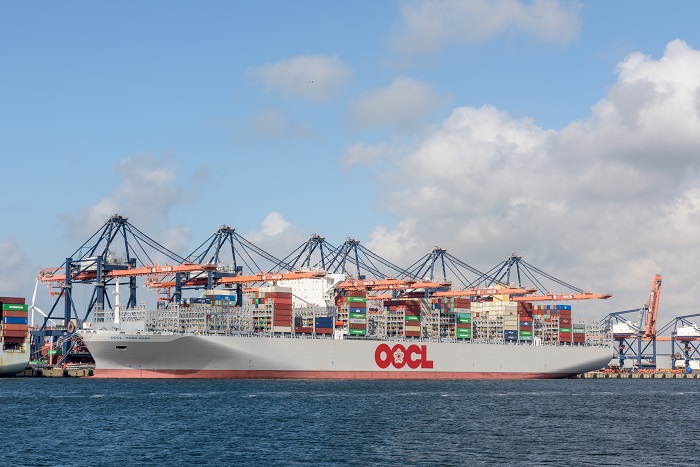 LONDON — Amid double-digit growth in trans-Pacific volume and sustained strength on the trade for a year, OOCL warned "the threat of a looming so-called trade war justifies a degree of caution" that could hamper the carrier's ability to bounce back into profit post-Cosco Shipping takeover.
OOCL lost $10.3 million in the first half of 2018, down from a $53.6 million profit a year earlier, this despite a volume rise on the carrier's top trans-Pacific route of 11.3 percent year over year to 963,173. The growth in US imports from Asia handled by OOCL was even stronger, with volume up 22.3 percent to 549,788 TEU, according to data from PIERS, a sister product of JOC.com. That compares with overall growth in US imports from Asia of 4.5 percent to 7.8 million TEU in the first half.
Overall revenue rose to $3.1 billion from $2.8 billion in the first half, as traffic increased 6 percent to just short of 3.3 million TEU. Trans-Pacific revenue in the first half jumped 14.9 percent to $1.12 billion and second-quarter revenue rose 11.2 percent to $587.1 million.
"The strong cargo volume seen in most east-west trade lanes, especially on trans-Pacific routes, is encouraging, not least because it is a trend that has now been sustained for over a year," said outgoing OOCL chairman CC Tung.
Growing trade tensions between China and the United States could undermine that growth this year, although the first half has proven resilient despite the gradual introduction of tariffs between the two countries that have gradually grown to threaten about half of all US imports from China, which amounts to roughly 5.1 million TEU. Chinese retaliation, excluding the $60 billion announced last week as no new analysis is yet available, threatens at least 12.8 percent of US exports to the country.
Shippers appear to be nervous and rushing shipments, with trans-Pacific spot shipping rates last week breaking $2,000 to the US West Coast from Shanghai and $3,000 to the East Coast for the first time since February of 2017, according to the Shanghai Containerized Freight Index as displayed on JOC's Shipping & Logistics Pricing Hub. Spot rates this summer have also been holding on to their general rate increase gains for longer than usual over the last several summers, indicating a higher level of demand. 
Nonetheless, carriers seem to be taking the threat of a trade war seriously, trimming July-August capacity from Asia to the west coast of North America by 6 percent, while the 2M Alliance of Maersk Line and Mediterranean Shipping Company announced plans to suspend a weekly Asia service to the US East Coast that will reduce capacity 1.3 percent starting in September.
Traffic on the Asia-Europe trade jumped 16.7 percent to 637,773 TEU. OOCL's performance on the trade was markedly stronger than the growth of the trade overall, as Asia-North Europe volume was flat at 4.9 million TEU in the first half as headhaul traffic fell 1.6 percent year over year, according to Container Trade Statistics.
The container shipping industry earned about $7 billion in 2017, accoriding to Drewry, following six straight years of losses. However, initial forecasts of an encouraging 2018 gave way to a slow start, as rising bunker fuel prices, higher charter/inland costs, and ocean overcapacity concerns have hit first-quarter results. In addition, trade tension and the threat of lasting trade tariffs (beyond negotiating 'stances') among the world's major economic powers (the United States, China, and the European Union) threaten to dampen global trade — and the industry's ability to secure another profitable year. 
 Uncertain geopolitical climate requires 'a degree of caution'
Tung added, "While it is true that global economies still appear reasonably robust, not least the USA, the uncertainty caused by the threat of looming so-called trade wars justifies a degree of caution."
OOCL took delivery of the sixth and final 21,413-TEU vessel from South Korea's Samsung Heavy Industries in the first half with the newbuild joining its five sister ships on the Asia-Europe trade.
Tung, who is stepping down after 22 years as chairman, said the Cosco takeover offers "tremendous" opportunities for both carriers in a rapidly consolidating container shipping industry.
OOCL will retain a separate listing on the Hong Kong stock exchange, as well as branding, management, and staff.
The carrier didn't place any new vessel orders in the first half of the year and no new builds are pending delivery.
Still, OOCL's new CEO Huang Xiaowen said at a press conference announcing the results that the company intends to boost its fleet to 1 million TEU from about 700,000 TEU currently, according to Splash 247.com. Cosco has the world's second-largest order book, and the orders from OOCL would approximately double the size of Cosco's orderbook and make it the largest in the world, according to an analysis of IHS Markit ship data.
Finally, Tung added, "Together with greater scale and with increased financial resources, we will be able to combine the complementary strengths of our two liner businesses and Cosco's terminal business, and thereby to create an industry leader, providing the widest of networks and the best of service to our customers, using ambitious growth targets and meaningful synergy benefits to create value for our shareholders, enhancing our business through information technology, and offering challenging and exciting careers to our employees."
Contact Bruce Barnard at brucebarnard47@hotmail.com.
**
RELATED STORIES:
China-US tariff dispute may fuel Asia-Oceania trade
OOCL reaps revenue rewards from 2017 container cargo