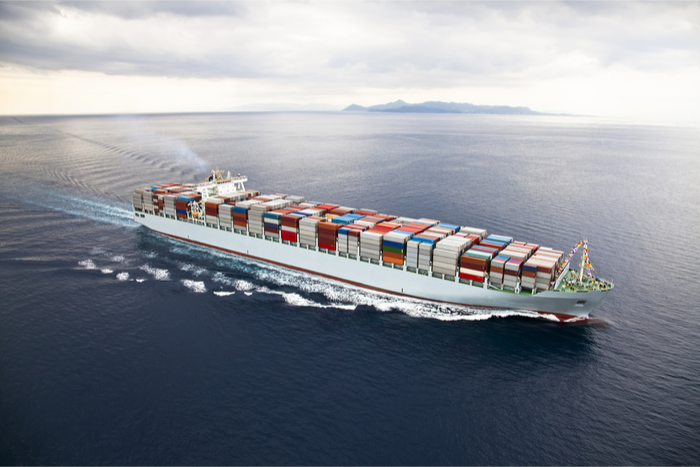 New research shows that mandatory slow-steaming rule could cut carriers' round-trip fuel consumption, even with the additional vessels required to maintain strings on long-haul voyages.
Those extra vessels may offset much of the gains, but facing a $10-15 billion annual increase in bunker costs stemming from the low-sulfur mandate that kicks in Jan. 1, 2020, even a slight reduction in fuel consumption will provide some welcome relief for container carriers.
According to Drewry Maritime Research, if there was no change in the service rotation or handling times at ports, the most obvious impact of speed limits on the Asia-North Europe trade is the requirement for as many as three extra ships on some services. With lower fuel consumption at the reduced speed, the gross service round voyage fuel intake on the Asia-Europe services would be reduced by about 10 percent, the analyst wrote in its Container Insight Weekly.
Further evaluation required
An industry proposal to make slow-steaming mandatory is certain to be on the table at the International Maritime Organization's (IMO's) Marine Environment Protection Committee (MEPC) meeting in London this week. More than 100 shipping companies — none of which are container lines — signed an open letter to the IMO ahead of the MEPC talks calling for the IMO to enforce speed limits on all shipping as one of several possible methods to accelerate the decarbonization of shipping.
The idea of mandatory slow-steaming is tied to the IMO goal to achieve actual reductions in carbon emissions from shipping as soon as possible, that is, well prior to its long-term 2050 targets. But given that power sources such as hydrogen, biofuels, or electricity produced from renewable sources are likely years away from being able to replace fossil fuels, proponents of the proposal argue more immediate reductions are needed that can only be achieved through purely operational changes such as slow-steaming.
Drewry said that while carriers could win marginal gains in fuel consumption and cost by slowing ships even further, the analyst agreed with Maersk that "further evaluation of the unintended consequences is required."
It is a position shared by other carriers, and the wider container shipping industry. According to Hapag-Lloyd spokesperson Nils Haupt, "If we reduce speed in a loop from Hamburg to Singapore which requires 12 ships, to stay on schedule and maintain a regular weekly service, you would need a 13th or 14th ship, which means investment and additional CO2 [carbon dioxide] pollution. This is something that bulk carriers and tankers don't have to take into account, but for containers it would be harsh investment and wouldn't really solve the program," he said.
John Butler, World Shipping Council president and CEO, said speed limits would force container carriers to build new ships ahead of schedule to make up for capacity lost through mandatory slow-steaming. And because carbon-neutral ship technology is still in its infancy, Butler said any ships ordered in the near future would still use old fossil fuel burning technology that would undermine CO2 reduction targets.
"Ships on average last 25 years, so if you have this short-term measure of reducing speeds through a mandatory regulation, you are creating the need [for liner operators] to invest in more fossil fuel burning vessels that will be with us for the next 25 years, which is precisely the direction we don't need to go in," Butler said.
"Whatever the merits of a speed reduction might be in the short term, in the long term, a speed limit would lock in the very technology that instead needs to be replaced in order to ultimately meet the IMO's long-term objectives in 2030 and 2050."
But the mandatory slow-steaming proposal has its supporters, including the world's largest sea freight forwarder. Otto Schacht, executive vice president, sea freight, at Kuehne + Nagel, for example, wrote in a LinkedIn post that the shipping industry emits around 1 billion metric tons of CO2 a year, just below 3 percent of total global greenhouse gas emissions.
"Although being by far the most carbon efficient mode of commercial transport, all involved in sea container transportation — about 23 percent of shipping emissions — have to reduce CO2 emissions faster," he said.
Schacht said this could be achieved by further reducing vessel speed (slow-steaming has been a relatively common tactic for managing capacity since coming into fashion about a decade ago); new types of fuel, such as biofuel that is being tested by container carriers Maersk Line and CMA CGM; new vessel and engine designs; shifting cargo to cleaner vessels; and offsetting CO2 emissions with a carbon credit system.
For shippers, climate change has had a direct impact on their supply chains, with a series of typhoons in Asia in 2018 contributing to record low schedule reliability levels, drought in Europe grounding barge transport in the mid-to upper reaches of the Rhine, and in the past month low water levels in the Panama Canal leading to maximum draft restrictions.
But not all shippers are sold on mandatory slow-steaming. For Jonathan Gold, vice president of supply chain and customs policy for the National Retail Federation, it is simple. He said bluntly via Twitter, "This is the wrong approach and should not be supported."
Industry analyst Lars Jensen of SeaIntelligence Consulting was also unconvinced, arguing that with average vessel speeds already well below historical averages, mandating slow-steaming now would ultimately add to emissions.
"The carriers are already slow-steaming, so it's the law of diminishing returns. The effect would not be as dramatic this time around because you get less bang for the buck," he said.
Analyzing vessel movement data from January 2012 to March 2019, SeaIntelligence found that headhaul speeds from Asia to North Europe have fallen steadily from an average of 17.46 knots in 2012 to an average of 16.61 knots in 2018. During the first three months of this year, the sailing speed on Asia-North Europe fell to about 15.6 knots, and the trend was similar on the Asia-Mediterranean trade.
Average sailing speeds constantly decreased between Asia and the East Coast of North America, although the Asia-US West Coast trade has remained at a relatively consistent 18-19 knots once the massive slowdown in sailing speeds around the US West Coast port labour dispute and resulting congestion in late 2014 and early 2015 is removed.
Contact Greg Knowler at greg.knowler@ihsmarkit.com and follow him on Twitter: @greg_knowler.