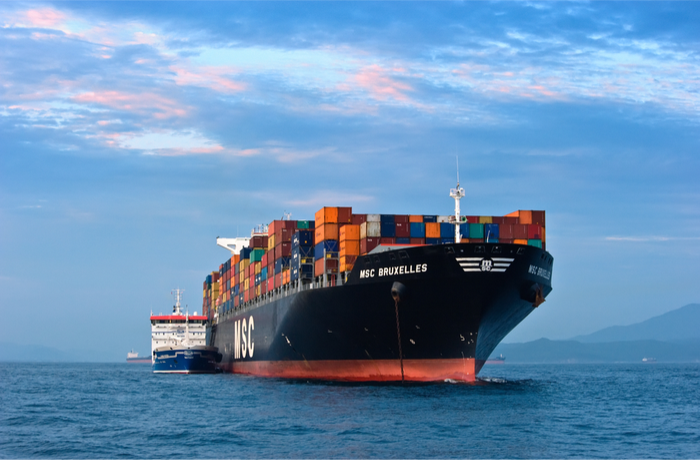 The conclusion of annual trans-Pacific service contracts this month showed that container lines for the most part got shippers to agree to reimburse them for expected higher fuel costs as of Jan. 1, when tougher restrictions for sulfur content in bunker fuel take effect. But while the trans-Pacific is the world's largest trade lane, it represents just 13 percent of global volumes.
Now, comes the harder part. Questions remain on whether carriers can recoup higher fuel prices on other trade lanes marked by shorter-term contracts as well. Yang Ming and four other container line executives tell JOC.com they're confident that the fuel formulas independent from base rates within annual trans-Pacific service contracts will compensate them for higher costs of meeting the International Maritime Organization's (IMO's) low-sulfur fuel mandate. But with regard to other trade lanes where reimbursement by carriers is not yet secured, they're not certain.
Yang Ming CEO and chair Bronson Hsieh said that in regards to trans-Pacific service contracts, "It looks like some big customers are willing to pay those additional costs as long as those charges to the consignee will be more transparent as far as the formula goes." He said he was encouraged by the shippers' willingness to share the responsibilities in reducing the environmental impact of shipping.
"I can say this is a good beginning but it's just only for the trade in the trans-Pacific," Hsieh told JOC.com in an interview in Taipei last month.  
He noted how unlike in the trans-Pacific where contracts commit to a full year, Asia-Europe and intra-Asia trades operate on semi-annual, quarterly, or even shorter-term contracts. Yang Ming expects the new mandate will cost it between $300 and $350 million more annually.
While carriers feel more confident they'll be able to pass on higher operating costs via trans-Pacific service contracts, they note the actual scale of the increases won't be apparent until the fourth quarter. Still, few carrier executives expect shippers to walk away from contracts once the extent of the fuel bill is realized — even if it's higher than anticipated since they would be pressed to find other carriers that would honor their minimum quantity commitments. Yet there's still a sense of uncertainty about how the mechanisms will ultimately play out, as reflected by comments by Matson CEO Matt Cox during the company's first-quarter earnings call on May 8.
"So there are existing floating bunker mechanisms that we also, and the trade uses today. And there are various calculations in the way that those are addressed. And so I think it's fair to say that there are existing mechanisms in place to handle this floating, or this fuel surcharge or bunker adjustment factor [BAF]."
Matson, a Jones Act carrier, told investors it has had a "satisfactory outcome" in creating those mechanisms within the annual trans-Pacific service contracts that run from May 1 to April 30 to account for the higher costs of the new rules. Having already gotten a head start on installing scrubbers on vessels for its Alaska service, Matson said it's taking a more aggressive approach in scrubber adoption than the international carriers also serving the trans-Pacific trade.
Beyond higher shipping costs, the low-sulfur mandate will put negative pressure on global vessel capacity, and in turn, schedule reliability, in the fourth quarter. Each vessel that transitions to low-sulfur fuel must be laid up for about a week to flush out the high-sulfur fuel, which means that carriers will have to phase in idle ships or blank sailings to compensate for the layups.
Carriers and non-vessel-owning common carriers (NVOs) warn another round of front-loading could occur in the fourth quarter as shippers attempt to get ahead of the increased BAFs that will be charged at the end of the year. The difference this year will be that the front-loading won't just be isolated to the eastbound trans-Pacific trade; the remaining 87 percent of global container lanes would also be at risk.
Contact Mark Szakonyi at mark.szakonyi@ihsmarkit.com and follow him on Twitter: @MarkSzakonyi.