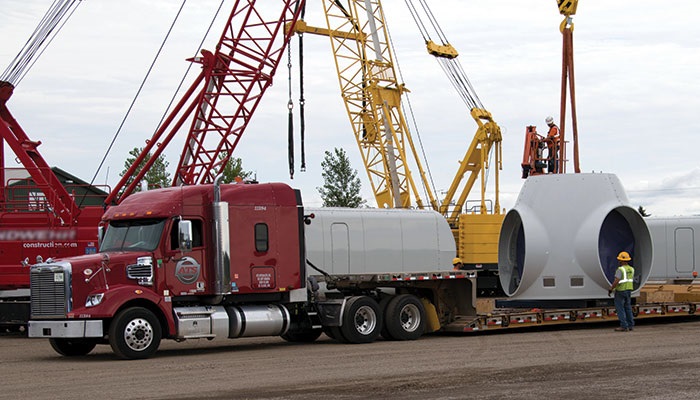 Galvanized by falling costs, technological improvements, and a soon-disappearing federal tax credit, the 20-year-old US wind energy industry will be pushing hard over the next few years to manufacture and/or import, transport, and install towering turbines on wind farms nationwide. Furthermore, an effort to retrofit existing wind installations with more-powerful generators and longer blades means the US wind energy outlook is bullish through the near term and beyond.
The ports specializing in the handling of wind components and the heavy-haul truck lines capable of transporting these unique, over-dimensional cargoes are gearing up for an increase in wind projects before the ability to qualify for and exploit the US tax incentive phases out by the end of 2023.
"There is a strong incentive driving new builds — new wind turbines that are taller, bigger, heavier, and using the newest technology — and to deploy them in a smaller window of time before the expiration of the tax credit," said Luke Lewandowski, research director in the Chicago office of Wood Mackenzie Power & Renewables, a Houston-based global energy consultant.
The Production Tax Credit (PTC) gives wind energy farm owners the right to take a tax credit of varying amounts per kilowatt hour for electricity sold once the project is producing energy, depending on the year in which the project qualified and provided they have met the PTC requirements, according to the American Wind Energy Association (AWEA). If a project qualified for the PTC before the end of 2016 and is up and running before the end of 2020, it will be eligible to take 100 percent of a 2.4 cent-per-kilowatt-hour tax credit for every kilowatt of electricity sold during the first 10 years after energy production begins without additional hurdles. Projects that met the qualifications before the end of 2017 will get an 80 percent credit if producing by the end of 2021; 2018 would get 60 percent; 2019 would get 40 percent; and after that, nothing. Again, the projects must be producing energy within the given time frame to receive the tax credit.
A lot of wind energy cargo movement up ahead
That means a lot of wind energy project cargo will move between now and 2023. According to Lewandowski, it's a great opportunity for developers but also a "considerable challenge. For projects qualifying now, developers can design using the latest technology [and] be eligible for the critical tax credits. From a logistics perspective, however, developers and turbine suppliers are often dealing with components that have never been mobilized or transported before in the US market."
The current generation of nacelles, the section that sits at the blade hub and houses the wind turbine's generator, gearbox, drive train, and brake assembly, can weigh as much as 150 metric tons (165 tons). "There are only a finite number of large cranes that can lift these nacelles at project sites and developers have to reserve them well in advance," Lewandowski said. "There are only so many heavy haul trailers that have the ability to transport the new longer blades too."
Developers can extend existing tax credits by retrofitting existing wind farms with newer, higher-performing technology, Lewandowski said. "This is keeping the logistics industry pretty busy today, because retrofitting takes [transport] resources away from new build campaigns and requires them to lock up or reserve assets in advance.
"If you're not talking a [logistical] hedge, you [the developer] will likely be left on the sidelines or paying a premium to get turbines delivered to project sites on time. There is extreme pressure today on lowering the cost of energy, and any unforeseen cost increase can have an impact on project profitability," he said.
Wind has caught the attention of developers and investors in the US. Approximately 612 megawatts of new wind power capacity were installed during the third quarter of 2018, a 15 percent increase over the same quarter in 2017, according to the AWEA. Eleven new projects were commissioned across seven states during the period, while new capacity under construction or in an advanced stage of development totaled 38 megawatts.
Contact Chris Barnett at chris@cbarnmedia.com.